Hello,
I had to create, without knowing how, two modules in the sidebar menu during my test of the « Calendar » module. I would like to delete them now.
Here's how it looks: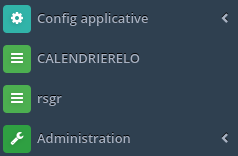 When I click on them, I get this error:


I have searched the database to try to find where the modules to display are listed without success.
I should mention that there is no mention of « CALENDRIERELO » or « rsgr » in the base_calendar and ical_ tables.
Has anyone faced the same issue? Do you understand what caused it? (I couldn't reproduce this « bug ») and, most importantly, were you able to resolve it?
Thanks in advance.
Vivien.
Bonjour,
j'ai dû créer, sans savoir comment, lors de mon test du module « Calendrier », deux modules dans la barre latéralle de menu. J'aimerais maintenant les supprimer.
J'ai écumé la base de données pour essayer de trouver où sont listé les modules à afficher sans succès.
Je précise qu'il n'y a nulle part mention de « CALENDRIERELO » ou « rsgr » dans les tables base_calendar et ical_
Quelqu'un a t-il été confronté au même problème ? compris par quoi c'était causé ? (je n'ai pas résussi à reproduire ce « bug ») et surtout a t-il réussi à le ressoudre ?
Merci d'avance,
Vivien.