Hi I had been facing errors on installing axelor to my centOS server. I had tried the WAR, SOURCE method all showing error:
This is my database info from server:
Name | Owner | Encoding | Collate | Ctype | Access privileges
-----------±---------±---------±------------±------------±----------------------
axelor | postgres | UTF8 | en_US.UTF-8 | en_US.UTF-8 | =Tc/postgres +
| | | | | postgres=CTc/postgres+
| | | | | axelor=CTc/postgres
This is my database info from axelor-config.properties:
db.default.driver = org.postgresql.Driver
db.default.ddl = update
db.default.url = jdbc:postgresql://localhost:5432/axelor
db.default.user = axelor
db.default.password = 12345
When I tried to start it from Tomcat manager application page, it shows
Message: FAIL - Application at context path [/axelor] could not be started FAIL - Encountered exception [org.apache.catalina.LifecycleException: Failed to start component [StandardEngine[Catalina].StandardHost[localhost].StandardContext[/axelor]]]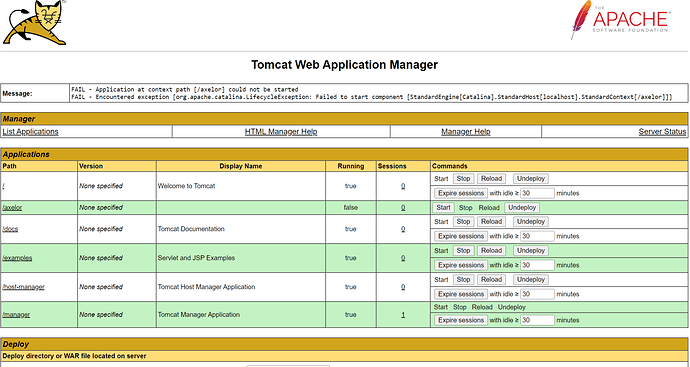 When I access http://localhost:8080/axelor it shows 404 error:
HTTP Status 404 – Not Found

Type Status Report

Message The requested resource [/axelor/] is not available

Description The origin server did not find a current representation for the target resource or is not willing to disclose that one exists.

Apache Tomcat/8.5.88
I had deployed the WAR file either in ROOT or axelor all showing same error.
This the the webapps directory


Can you point out where is the problem? DO you need my logs?
Here is my catalina.out log
09-May-2023 12:49:13.681 INFO [main] org.apache.catalina.startup.VersionLoggerListener.log Server version name: Apache Tomcat/8.5.88
09-May-2023 12:49:13.694 INFO [main] org.apache.catalina.startup.VersionLoggerListener.log Server built: Apr 14 2023 20:16:27 UTC
09-May-2023 12:49:13.694 INFO [main] org.apache.catalina.startup.VersionLoggerListener.log Server version number: 8.5.88.0
09-May-2023 12:49:13.694 INFO [main] org.apache.catalina.startup.VersionLoggerListener.log OS Name: Linux
09-May-2023 12:49:13.694 INFO [main] org.apache.catalina.startup.VersionLoggerListener.log OS Version: 3.10.0-1160.90.1.el7.x86_64
09-May-2023 12:49:13.694 INFO [main] org.apache.catalina.startup.VersionLoggerListener.log Architecture: amd64
09-May-2023 12:49:13.694 INFO [main] org.apache.catalina.startup.VersionLoggerListener.log Java Home: /usr/lib/jvm/java-1.8.0-openjdk-1.8.0.362.b08-1.el7_9.x86_64/jre
09-May-2023 12:49:13.694 INFO [main] org.apache.catalina.startup.VersionLoggerListener.log JVM Version: 1.8.0_362-b08
09-May-2023 12:49:13.694 INFO [main] org.apache.catalina.startup.VersionLoggerListener.log JVM Vendor: Red Hat, Inc.
09-May-2023 12:49:13.694 INFO [main] org.apache.catalina.startup.VersionLoggerListener.log CATALINA_BASE: /opt/tomcat
09-May-2023 12:49:13.695 INFO [main] org.apache.catalina.startup.VersionLoggerListener.log CATALINA_HOME: /opt/tomcat
09-May-2023 12:49:13.695 INFO [main] org.apache.catalina.startup.VersionLoggerListener.log Command line argument: -Djava.util.logging.config.file=/opt/tomcat/conf/logging.properties
09-May-2023 12:49:13.695 INFO [main] org.apache.catalina.startup.VersionLoggerListener.log Command line argument: -Djava.util.logging.manager=org.apache.juli.ClassLoaderLogManager
09-May-2023 12:49:13.695 INFO [main] org.apache.catalina.startup.VersionLoggerListener.log Command line argument: -Djdk.tls.ephemeralDHKeySize=2048
09-May-2023 12:49:13.695 INFO [main] org.apache.catalina.startup.VersionLoggerListener.log Command line argument: -Djava.protocol.handler.pkgs=org.apache.catalina.webresources
09-May-2023 12:49:13.695 INFO [main] org.apache.catalina.startup.VersionLoggerListener.log Command line argument: -Dorg.apache.catalina.security.SecurityListener.UMASK=0027
09-May-2023 12:49:13.695 INFO [main] org.apache.catalina.startup.VersionLoggerListener.log Command line argument: -Dignore.endorsed.dirs=
09-May-2023 12:49:13.695 INFO [main] org.apache.catalina.startup.VersionLoggerListener.log Command line argument: -Dcatalina.base=/opt/tomcat
09-May-2023 12:49:13.695 INFO [main] org.apache.catalina.startup.VersionLoggerListener.log Command line argument: -Dcatalina.home=/opt/tomcat
09-May-2023 12:49:13.695 INFO [main] org.apache.catalina.startup.VersionLoggerListener.log Command line argument: -Djava.io.tmpdir=/opt/tomcat/temp
09-May-2023 12:49:13.696 INFO [main] org.apache.catalina.core.AprLifecycleListener.lifecycleEvent The Apache Tomcat Native library which allows using OpenSSL was not found on the java.library.path: [/usr/java/packages/lib/amd64:/usr/lib64:/lib64:/lib:/usr/lib]
09-May-2023 12:49:13.841 INFO [main] org.apache.coyote.AbstractProtocol.init Initializing ProtocolHandler [« http-nio-8080 »]
09-May-2023 12:49:13.896 INFO [main] org.apache.catalina.startup.Catalina.load Initialization processed in 1046 ms
09-May-2023 12:49:13.953 INFO [main] org.apache.catalina.core.StandardService.startInternal Starting service [Catalina]
09-May-2023 12:49:13.953 INFO [main] org.apache.catalina.core.StandardEngine.startInternal Starting Servlet engine: [Apache Tomcat/8.5.88]
09-May-2023 12:49:13.996 INFO [localhost-startStop-1] org.apache.catalina.startup.HostConfig.deployWAR Deploying web application archive [/opt/tomcat/webapps/axelor.war]
09-May-2023 12:49:15.515 SEVERE [localhost-startStop-1] org.apache.catalina.core.ContainerBase.addChildInternal ContainerBase.addChild: start:
org.apache.catalina.LifecycleException: Failed to start component [StandardEngine[Catalina].StandardHost[localhost].StandardContext[/axelor]]
at org.apache.catalina.util.LifecycleBase.handleSubClassException(LifecycleBase.java:440)
at org.apache.catalina.util.LifecycleBase.start(LifecycleBase.java:198)
at org.apache.catalina.core.ContainerBase.addChildInternal(ContainerBase.java:711)
at org.apache.catalina.core.ContainerBase.addChild(ContainerBase.java:688)
at org.apache.catalina.core.StandardHost.addChild(StandardHost.java:661)
at org.apache.catalina.startup.HostConfig.deployWAR(HostConfig.java:1016)
at org.apache.catalina.startup.HostConfig$DeployWar.run(HostConfig.java:1903)
at java.util.concurrent.Executors$RunnableAdapter.call(Executors.java:511)
at java.util.concurrent.FutureTask.run(FutureTask.java:266)
at java.util.concurrent.ThreadPoolExecutor.runWorker(ThreadPoolExecutor.java:1149)
at java.util.concurrent.ThreadPoolExecutor$Worker.run(ThreadPoolExecutor.java:624)
at java.lang.Thread.run(Thread.java:750)
Caused by: java.lang.UnsupportedClassVersionError: ch/qos/logback/classic/spi/LogbackServiceProvider has been compiled by a more recent version of the Java Runtime (class file version 55.0), this version of the Java Runtime only recognizes class file versions up to 52.0 (unable to load class [ch.qos.logback.classic.spi.LogbackServiceProvider])
at org.apache.catalina.loader.WebappClassLoaderBase.findClassInternal(WebappClassLoaderBase.java:2481)
at org.apache.catalina.loader.WebappClassLoaderBase.findClass(WebappClassLoaderBase.java:881)
at org.apache.catalina.loader.WebappClassLoaderBase.loadClass(WebappClassLoaderBase.java:1384)
at org.apache.catalina.loader.WebappClassLoaderBase.loadClass(WebappClassLoaderBase.java:1228)
at java.lang.Class.forName0(Native Method)
at java.lang.Class.forName(Class.java:348)
at java.util.ServiceLoader$LazyIterator.nextService(ServiceLoader.java:370)
at java.util.ServiceLoader$LazyIterator.next(ServiceLoader.java:404)
at java.util.ServiceLoader$1.next(ServiceLoader.java:480)
at org.slf4j.LoggerFactory.safelyInstantiate(LoggerFactory.java:118)
at org.slf4j.LoggerFactory.findServiceProviders(LoggerFactory.java:111)
at org.slf4j.LoggerFactory.bind(LoggerFactory.java:162)
at org.slf4j.LoggerFactory.performInitialization(LoggerFactory.java:154)
at org.slf4j.LoggerFactory.getProvider(LoggerFactory.java:437)
at org.slf4j.LoggerFactory.getILoggerFactory(LoggerFactory.java:423)
at org.slf4j.LoggerFactory.getLogger(LoggerFactory.java:372)
at org.camunda.commons.logging.BaseLogger.createLogger(BaseLogger.java:96)
at org.camunda.bpm.engine.impl.ProcessEngineLogger.(ProcessEngineLogger.java:59)
at org.camunda.bpm.application.impl.ServletProcessApplicationDeployer.(ServletProcessApplicationDeployer.java:46)
at java.lang.Class.forName0(Native Method)
at java.lang.Class.forName(Class.java:348)
at org.apache.catalina.startup.WebappServiceLoader.loadServices(WebappServiceLoader.java:241)
at org.apache.catalina.startup.WebappServiceLoader.load(WebappServiceLoader.java:212)
at org.apache.catalina.startup.ContextConfig.processServletContainerInitializers(ContextConfig.java:1590)
at org.apache.catalina.startup.ContextConfig.webConfig(ContextConfig.java:1089)
at org.apache.catalina.startup.ContextConfig.configureStart(ContextConfig.java:780)
at org.apache.catalina.startup.ContextConfig.lifecycleEvent(ContextConfig.java:300)
at org.apache.catalina.util.LifecycleBase.fireLifecycleEvent(LifecycleBase.java:123)
at org.apache.catalina.core.StandardContext.startInternal(StandardContext.java:4855)
at org.apache.catalina.util.LifecycleBase.start(LifecycleBase.java:183)
… 10 more
09-May-2023 12:49:15.516 SEVERE [localhost-startStop-1] org.apache.catalina.startup.HostConfig.deployWAR Error deploying web application archive [/opt/tomcat/webapps/axelor.war]
java.lang.IllegalStateException: Error starting child
at org.apache.catalina.core.ContainerBase.addChildInternal(ContainerBase.java:715)
at org.apache.catalina.core.ContainerBase.addChild(ContainerBase.java:688)
at org.apache.catalina.core.StandardHost.addChild(StandardHost.java:661)
at org.apache.catalina.startup.HostConfig.deployWAR(HostConfig.java:1016)
at org.apache.catalina.startup.HostConfig$DeployWar.run(HostConfig.java:1903)
at java.util.concurrent.Executors$RunnableAdapter.call(Executors.java:511)
at java.util.concurrent.FutureTask.run(FutureTask.java:266)
at java.util.concurrent.ThreadPoolExecutor.runWorker(ThreadPoolExecutor.java:1149)
at java.util.concurrent.ThreadPoolExecutor$Worker.run(ThreadPoolExecutor.java:624)
at java.lang.Thread.run(Thread.java:750)
Caused by: org.apache.catalina.LifecycleException: Failed to start component [StandardEngine[Catalina].StandardHost[localhost].StandardContext[/axelor]]
at org.apache.catalina.util.LifecycleBase.handleSubClassException(LifecycleBase.java:440)
at org.apache.catalina.util.LifecycleBase.start(LifecycleBase.java:198)
at org.apache.catalina.core.ContainerBase.addChildInternal(ContainerBase.java:711)
… 9 more
Caused by: java.lang.UnsupportedClassVersionError: ch/qos/logback/classic/spi/LogbackServiceProvider has been compiled by a more recent version of the Java Runtime (class file version 55.0), this version of the Java Runtime only recognizes class file versions up to 52.0 (unable to load class [ch.qos.logback.classic.spi.LogbackServiceProvider])
at org.apache.catalina.loader.WebappClassLoaderBase.findClassInternal(WebappClassLoaderBase.java:2481)
at org.apache.catalina.loader.WebappClassLoaderBase.findClass(WebappClassLoaderBase.java:881)
at org.apache.catalina.loader.WebappClassLoaderBase.loadClass(WebappClassLoaderBase.java:1384)
at org.apache.catalina.loader.WebappClassLoaderBase.loadClass(WebappClassLoaderBase.java:1228)
at java.lang.Class.forName0(Native Method)
at java.lang.Class.forName(Class.java:348)
at java.util.ServiceLoader$LazyIterator.nextService(ServiceLoader.java:370)
at java.util.ServiceLoader$LazyIterator.next(ServiceLoader.java:404)
at java.util.ServiceLoader$1.next(ServiceLoader.java:480)
at org.slf4j.LoggerFactory.safelyInstantiate(LoggerFactory.java:118)
at org.slf4j.LoggerFactory.findServiceProviders(LoggerFactory.java:111)
at org.slf4j.LoggerFactory.bind(LoggerFactory.java:162)
at org.slf4j.LoggerFactory.performInitialization(LoggerFactory.java:154)
at org.slf4j.LoggerFactory.getProvider(LoggerFactory.java:437)
at org.slf4j.LoggerFactory.getILoggerFactory(LoggerFactory.java:423)
at org.slf4j.LoggerFactory.getLogger(LoggerFactory.java:372)
at org.camunda.commons.logging.BaseLogger.createLogger(BaseLogger.java:96)
at org.camunda.bpm.engine.impl.ProcessEngineLogger.(ProcessEngineLogger.java:59)
at org.camunda.bpm.application.impl.ServletProcessApplicationDeployer.(ServletProcessApplicationDeployer.java:46)
at java.lang.Class.forName0(Native Method)
at java.lang.Class.forName(Class.java:348)
at org.apache.catalina.startup.WebappServiceLoader.loadServices(WebappServiceLoader.java:241)
at org.apache.catalina.startup.WebappServiceLoader.load(WebappServiceLoader.java:212)
at org.apache.catalina.startup.ContextConfig.processServletContainerInitializers(ContextConfig.java:1590)
at org.apache.catalina.startup.ContextConfig.webConfig(ContextConfig.java:1089)
at org.apache.catalina.startup.ContextConfig.configureStart(ContextConfig.java:780)
at org.apache.catalina.startup.ContextConfig.lifecycleEvent(ContextConfig.java:300)
at org.apache.catalina.util.LifecycleBase.fireLifecycleEvent(LifecycleBase.java:123)
at org.apache.catalina.core.StandardContext.startInternal(StandardContext.java:4855)
at org.apache.catalina.util.LifecycleBase.start(LifecycleBase.java:183)
… 10 more
09-May-2023 12:49:15.518 INFO [localhost-startStop-1] org.apache.catalina.startup.HostConfig.deployWAR Deployment of web application archive [/opt/tomcat/webapps/axelor.war] has finished in [1,521] ms
09-May-2023 12:49:15.525 INFO [localhost-startStop-1] org.apache.catalina.startup.HostConfig.deployDirectory Deploying web application directory [/opt/tomcat/webapps/docs]
09-May-2023 12:49:15.678 INFO [localhost-startStop-1] org.apache.catalina.startup.HostConfig.deployDirectory Deployment of web application directory [/opt/tomcat/webapps/docs] has finished in [153] ms
09-May-2023 12:49:15.678 INFO [localhost-startStop-1] org.apache.catalina.startup.HostConfig.deployDirectory Deploying web application directory [/opt/tomcat/webapps/examples]
09-May-2023 12:49:15.993 INFO [localhost-startStop-1] org.apache.catalina.startup.HostConfig.deployDirectory Deployment of web application directory [/opt/tomcat/webapps/examples] has finished in [314] ms
09-May-2023 12:49:15.993 INFO [localhost-startStop-1] org.apache.catalina.startup.HostConfig.deployDirectory Deploying web application directory [/opt/tomcat/webapps/host-manager]
09-May-2023 12:49:16.013 INFO [localhost-startStop-1] org.apache.catalina.startup.HostConfig.deployDirectory Deployment of web application directory [/opt/tomcat/webapps/host-manager] has finished in [20] ms
09-May-2023 12:49:16.013 INFO [localhost-startStop-1] org.apache.catalina.startup.HostConfig.deployDirectory Deploying web application directory [/opt/tomcat/webapps/manager]
09-May-2023 12:49:16.063 INFO [localhost-startStop-1] org.apache.catalina.startup.HostConfig.deployDirectory Deployment of web application directory [/opt/tomcat/webapps/manager] has finished in [50] ms
09-May-2023 12:49:16.063 INFO [localhost-startStop-1] org.apache.catalina.startup.HostConfig.deployDirectory Deploying web application directory [/opt/tomcat/webapps/ROOT]
09-May-2023 12:49:16.085 INFO [localhost-startStop-1] org.apache.catalina.startup.HostConfig.deployDirectory Deployment of web application directory [/opt/tomcat/webapps/ROOT] has finished in [22] ms
09-May-2023 12:49:16.101 INFO [main] org.apache.coyote.AbstractProtocol.start Starting ProtocolHandler [« http-nio-8080 »]
09-May-2023 12:49:16.202 INFO [main] org.apache.catalina.startup.Catalina.start Server startup in 2305 ms